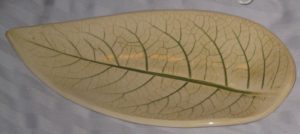 What Do You Do With a Leaf Dish?

Depending on the size you choose, there are So Many ways to use these. Here are a few suggestions – let us know if you think of more!
Appetizer Server
Butter Dish
Cheese Plate
Cookie Dish
Salad Plate
Bread & Butter Plate
Cracker Dish
Tea Bag Saucer
Spoon Rest
Soap Dish
Candle Holder
Jewelry Holder
Sushi Plate
Condiment Dish
All leaf dishes are hand made using natural leaves impressed in stoneware clay. Glazes are food safe, dishwasher, oven and microwave safe.
What will You do with yours? I'd love it if you could send me a photo of your leaf in use. S. Cary, Potter. ([email protected])
Save
Save